LICHT ist bei diesem Modell wichtig. Um sicherzustellen dass ich das perfekte Licht habe und es entsprehend korrekt ausleuchte muss ich einige Video Clips auf youtube erneut und erneut schauen.
Im totalen sind 3 Coole Videos vorhanden welche die Aussenseite näher betrachten.
And in Ds9 we do see that the Warp Nacelles als have blueish lights on every miranda class cruiser available.
Update 2020/11/05

Auf der Webseite Cygnus-X1.net findet man tausende von Blueprints für die Modelle. Um die korrekte Licht-Positionierung vorzunehmen, muss ich meinen eigenen Plan, basierend auf einigen Blueprints, entwickeln.
Der Eigentümer der Seite erlaubt mir das ich diese abbilden kann, solange ich den Ersteller erwähne.
In den folgenden Blue-prints habe ich die Markierungen für jede einzelne LED vorgenommen.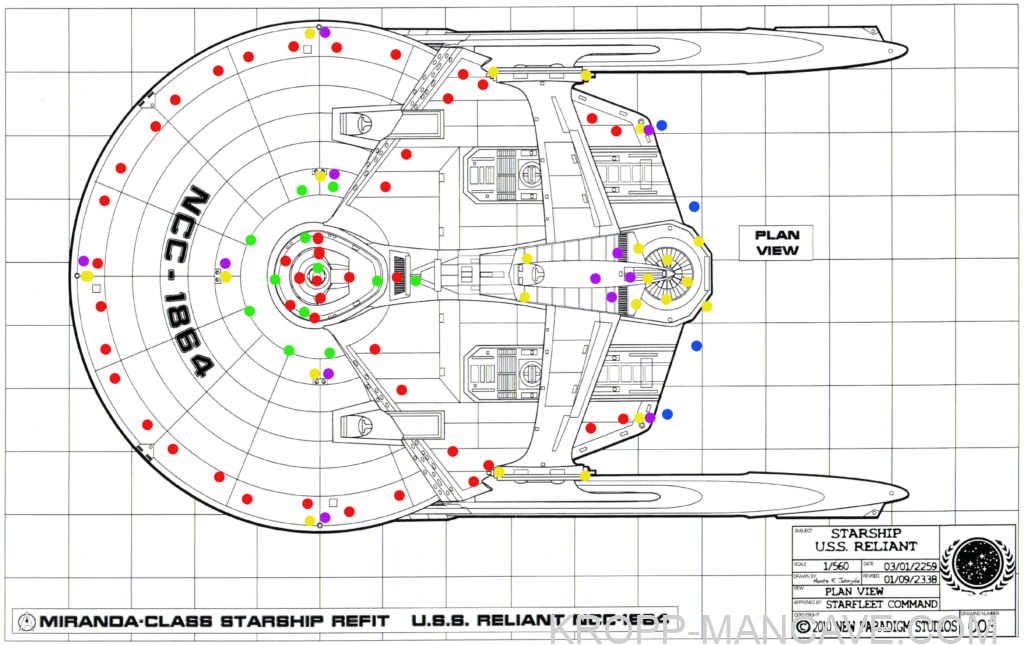 Farbe
STÜCK
BEREICH
STROM KREISLAUF SCHWIERIGKEITSGRAD
PROGRAMMIERUNG SCHWIERIGKEITSGRAD
ROT
44
OBEN / ÄUSSERER BEREICH
LEICHT
LEICHT
GRÜN
12
UNTER SEITE
LEICHT
LEICHT
GELB
22
OBERSEITE – PHASER / ROT-GRUEN BLINKLICHT/
WAFFEN PLATTFORM / WARPKERN (OBERSEITE)
MITTEL
SCHWER
VIOLET
12
_UNTERSEITE_ – PHASER/ ROT-GRUEN-BLINKLICHT-WARPKERN-LEUCHTEN
MITTEL
SCHWER
BLAU
4
RÜCKSEITE SPEZIAL LICHTER
LEICHT
LEICHT
TOTAL
94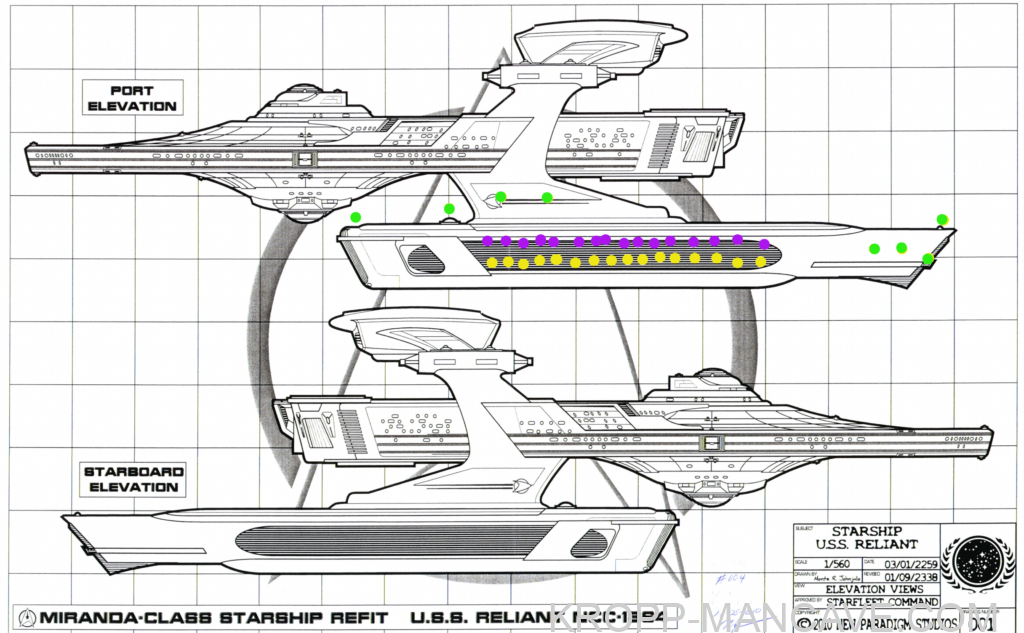 FARBE
STÜCK
BEREICH
STROM KREISLAUF SCHWIERIGKEITSGRAD
PROGRAMMIERUNG SCHWIERIGKEITSGRAD
GRUEN
10×2
ROT-GRUEN BLINKLICHT,
RELIANT NAMENS BELEUCHTUNG
LEICHT
MITTEL
GELB
16×2
WARPGONDELN INNENSEITE
MITTEL
SCHWER
VIOLETT
16×2
WARPGONDELN AUSSENSEITE
MITTEL
SCHWER
TOTAL
32×2
FEHLEND: BELEUCHTUNG SHUTTLE HANGAR
Aufrufe: 55